Old Town School of Folk Music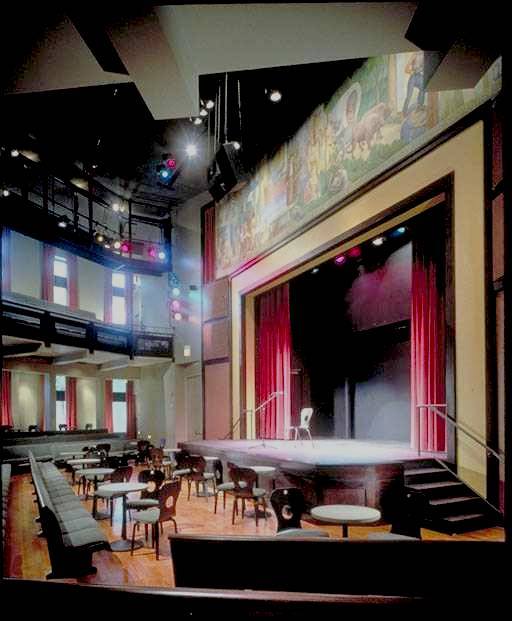 This 450 seat venue is the new home of a long time Chicago institution that presents everything from the intimacy of a solo singer/guitarist to large scale African folk troupes. Some jazz performances are also taking place here. The building was orginally a regional library in the Chicago Public Library system, and was made available to the school when a new library was built down the street. There were some historic aspects driving the renovation -- the large mural over the stage was made a focal point of the room and remains from the original building. This placed some important limitations on both sound and lighting systems.
Most of the sound system is concealed in large cavities in the proscenium wall flanking the stage. On each side are a cluster with two compact high frequency horns, 8-element bass arrays, and a sub-woofer. These clusters provide all of the low bass energy for the entire room, but mid and high frequency energy for the side seating only. The middle one-third of the room is covered by a small cluster over the center of the stage. A network of small ceiling-mounted loudspeakers provides some additional presence to rear seating at tables under the balcony.
The system covers the room very uniformly, and with very high dynamic range, but the horn arrays (Electro-Voice) and the custom bass arrays (built by Renkus-Heinz based on our design) keep sound off of the stage. This allows the operator a very high degree of freedom in miking the performers without worrying about feedback.
Like all of our projects, this facility has a clean technical power system with well controlled grounding, a full network of tie lines for mics, line level signals, loudspeakers, and intercoms. There are two in-house mix positions, one of which can double as a record mix position or split output to a record/broadcast truck. The grand opening performance was broadcast by WTTW, the PBS station, who found the facility quite user friendly -- in addition to the mic splits, there are separate disconnect switches from the clean power system for their remote truck and for a touring sound system.
The system was designed by Jim Brown of Audio Systems Group, Inc.. Dave Prince,who was then a member of the Talaske Group but now has has own firm, was the acoustic consultant.. The audio system was installed by Wizdum Audio under the direction of project manager Joe Magliano.